"Washed away a dream of you." – Skid Row
It has been raining a lot lately, and maybe that's why this song has been coming to the forefront of my mind more often lately.  But more likely it's because this song is now 30 years old, and it's been 30 years since I graduated high school.  Almost to the day.
I'm not sure where 30 years has gone.  I mean I know I've been through college, worked numerous jobs, taken a wife, moved a few times, and had a daughter.  My daughter is now graduating high school.
We had a karaoke party for her the night before graduation, and one of the older people there mentioned how fast time has gone.  One of Caroline's friends replied with something to the effect that time goes so slow.  Perspective, right?
So for now, I'll try to enjoy the present.  I'll remember the school days of my daughter.  They weren't always easy.  There were teachers and principals and friends we loved along the way.  There were others we loved a little less.  There were times that we all struggled with feelings of inadequacies and frustration as parents, and times where we all lost our cool at one another.  Even though those tough times will exist somewhere in the recesses of our minds, I'm going to choose to mostly remember the good times.
I'll remember the Miss Frankie pre-school days where they sang "I Am a Promise" at their pre-school graduation.  They all had "potentiality."  I'll remember the first day every year of elementary when we would walk our daughter down the street to T.G. Smith Elementary.  I'll remember the Watch D.O.G.S. dad days at T.G. Smith where I was able to patrol the hallways, interact with the kids, and hang out in classrooms throughout the day while spending lunch and recess with my daughter.  There were "Donuts with dads,"  a guitar concert, school dress-up days, snow days, and our dance to Stephen Curtis Chapman's "Cinderella" at the talent show.  I'll remember her time at Hellstern Middle School and picking her up and taking her for lunches at local Chinese buffets.  Sometimes a friend or two would tag along.  I'll remember the band concerts at Central Junior High.  I'll remember the choir concerts at Har-Ber High School and the Friday night high school football and basketball games we would go to.  I'll remember the car rides to and from school that would sometimes end with a word of encouragement or a simple "I love you."
The memories touch my very core.  My eyes well up with emotions when I think about the past 13 years of school for her.  I wonder if my mom and dad felt the same way 30 years ago.  I see my elderly parents now struggling physically and mentally and I wonder if any of that awaits me in another 30 years.  And I now realize that 30 years doesn't take near as long as it used to.
But most of all right now, I'm just proud of my daughter.  Proud of her perseverance.  I don't think she'll look back with a lot of fond memories of her school days.  Quite honestly there were a lot of struggles along the way, and times where we all wondered if we were going to make it to this finish line.  She struggled with feelings of inadequacies and self-doubt and self-loathing.  I think most parents traverse these issues raising children.  The struggles are real.  They are serious.  But they can be overcome.  It seems like forever sometimes, but when you watch them walk across the stage to get their diploma, forever is just the blink of an eye.
"I paint a picture of the days gone by.  When love went blind and you would make me see"
I think of 1989 as a transitional year in music and also a transitional year for me personally with my graduation from Norman High School.  Our large graduation ceremony (exceeded by my daughter's class of 650) was held inside of the Lloyd Noble Center on the campus of the University of Oklahoma.  I've written about it before on this site, but I still still vividly remember walking out of the arena and up the ramp in my black cap and gown, and turning around and just staring for a minute at all of my fellow students walking behind me.  There was a sense of excitement and accomplishment and a sense of anticipation and even relief among us all.  We were walking up the ramp out of the arena, into the parking lot to our cars, and essentially driving off into our futures.
It never really hit me until right then that I wouldn't see many of these people ever again.  Lest you forget, this was long before we knew what the internet even was, and what is was going to be and do for us in the future.  It was long before Facebook and Instagram practically made you best friends again.  Heck, I'd even argue that I've spoken more electronically to some of my former classmates than I ever did in my four or five years in school with some of them.
My daughter just made her walk up onto a makeshift stage at Bud Walton Arena in Fayetteville, AR last weekend in her Har-Ber High blue graduation gown and cap.  What her future holds only God knows.  I would guess it's exciting and a little scary at the same time.
She's going to start working full-time immediately.  School just hasn't been her jam, and that's ok.  College is not for every 18 year old.  Some need to figure things out and follow different paths.  She has a good head on her shoulders.  She will figure it out, and she doesn't have to figure it out tomorrow or next week or next month or next year.  She'll get there in her own time.  Like any path, there will be forks in the road.  There will be dead ends.  There will be narrow roads and wide roads and roads that seemingly go on forever into the future.  
"Remember yesterday.  Walking hand in hand."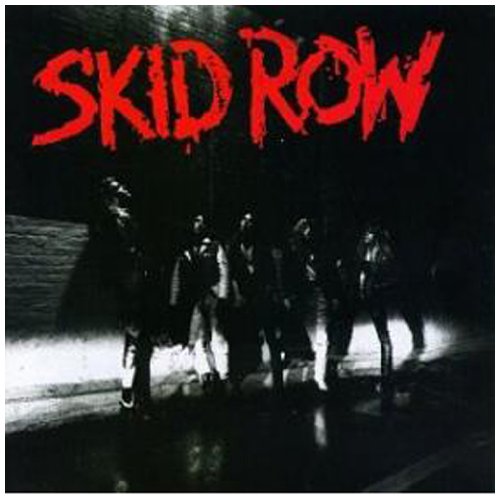 A group that was really just coming onto the national scene and finding their way in 1989 was today's group – Skid Row.  They broke onto the national scene with their self-title debut album in '89.  I think about bands like this sometimes when I think about life after high school.  Most likely these guys were playing in various bands during their teenage years and though I don't have any statistical data, I'd say a great majority of these guys didn't go to college.  Music was their path, and some of them made it big if only for a short time.
If this wasn't my favorite song from 1989, then it was top five easily.  The song wasn't released until November as a single, but I had this cassette sometime shortly after its release in late January so I was well aware of this song by the time of its' official release as a single.
It reached #6 on the Billboard Hot 100 in early 1990, but it was already number one in my ears by the summer of 1989.  This cassette made my rotation a lot especially outside in the Oklahoma heat while mowing the yard that summer.  Maybe it's the video that adds to the melancholy of the song, but there's just something inherently sad in the melody and lyrics.  There's also something very nostalgic about it as well which reminds me of graduation in the spring of '89.
I wonder now if the guys from Skid Row look back at pictures like the one at the beginning of this post and shake their collective heads at that particular moment captured in time.  A time where they were young and strong and confident, and ready to conquer the world.  A time when they were indestructible and ready to ride the wave of success forever with hard rocking metal jams and beautiful ballads like this one.
I'd often listen to this song and wish that I had a girlfriend at that time.  Ahh, the ecstasy of yearning for young love!  Even though there were no beaches in Oklahoma, I'm sure we could have written love letters in the mud or something along a river or a lake somewhere.  Nonetheless, turn up the volume a little bit, be still, soak in your own nostalgia whether 1989 was a particularly memorable year or not, and just enjoy the piercing vocals of 1989 Sebastian Bach as you remember a time gone by.  Here is "I Remember You…"
Remember yesterday.
 (photo creds to my wife for capturing this beautiful moment)
And congratulations you seniors.
sincerely,
the 80's