"But I probably will."  – Bruce Springsteen
There's a wonderful scene in the comedy series "The Office" where Ed Helms' character, Andy Bernard, says that he wishes there was a way to know you're actually in the "good ole days" before you leave them.  The timing of this particular scene was perfect and delivered beautifully by Helms.  It was one of the final episodes of the show, and the poignancy of the moment is just so very relatable.
Glory days yeah they'll pass you by

Glory days in the wink of a young girl's eye
High school athletics does go by that quickly.  When you're young and in the moment, it seems almost preposterous that it could all actually end one day.  I recall the days of two and three hour basketball practices that seemed like two and three days.  The cold winter nights and the days between games were practically weeks apart.  Whenever another week of school started on Monday morning, Friday night mine as well have been light years away.  Now in my 50's, those days really do seem like light years ago.
Last night, I was in Harrah, Oklahoma for a high school football game.  There is always something special about a small town high school football game, but this one wasn't an ordinary Friday night clash.  It was a state quarterfinal playoff matchup between two teams from the lowest class of Oklahoma eleven man football – Class A.  Sixty teams started the season, thirty-two of them advanced to the playoffs, but by this particular Friday night, those 32 had been whittled down to eight.  Evans Field in Harrah provided the neutral site setting featuring the 12-0 Gore Pirates taking on the 10-1 Crescent Tigers with a trip to the semi-finals on the line.
I have an aunt and her two adult children (my two younger cousins) who hail from the small town of Gore in eastern Oklahoma.  Known statewide as the birthplace of 1969 Heisman Trophy winner Steve Owens, the 2020 census shows the population at just under 1,000 people.  There was a decent chance that all 1,000 Gore residents were in Harrah on Friday night.  My cousin Kasey joked that if you ever wanted to start robbing houses in Gore, tonight was the perfect time, because even the Gore police were in Harrah.  The stadium capacity shows 2,700, and there appears to be equal amount of seating on both sides of the field, but on the side where the Gore fans sat, it was packed so do the math.
I arrived just minutes before kickoff and luckily, I found an open solo spot on the front row in front of my cousin Kim and her husband Ryan.  My Uncle Rick, my cousin Kasey and his wife Mary, and Gore "superfan" (aka Mama Duke) – my aunt Sharon (Kim and Kasey's mother) sat another row behind Ryan and Kim.  We were all there to watch the Gore Pirates and in particular Kasey and Mary's son, and Sharon's grandson, Jackson Duke, a star athlete on the Gore Pirates.  I say athlete because the coaching staff uses him like a Swiss Army Knife.  He plays offense.  He plays defense.  He returns kickoffs and punts.  Heck, the kid is even the long snapper.  I did not see him with a headset on calling plays but, hey there's still time this season.  But when you play on a small school football team, you HAVE to have kids like Jackson Duke.  And if you have enough players like that who can excel on both sides of the ball then you have a good chance of having a successful team and season.
"I had a friend was a big baseball player

Back in high school He could throw that speedball by you Make you look like a fool boy."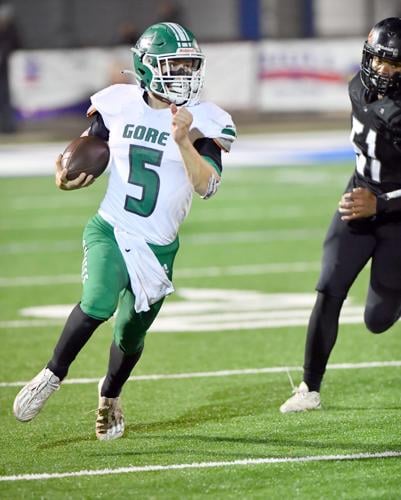 Jackson Duke photo credits to JIM WEBER/Special to the (Muskogee) Phoenix
Nothing quite captures a small town's imagination, a town's pride, and unites people like a bunch of 16, 17 & 18 year old's with your hometown printed across their chests.  It's a brilliant part of our psyche.  We all want to be part of something special, something historical.  People don't care about political views or religious ideologies at high school football games.  They don't care about how much money you have or how much education you've received.  Hundreds of people gather at the intersection of pride and unity dressed in the same colors and they only care about if their team can score more points than the other team.
Part of the beauty of small town football Friday nights will always belong to the fans.  Men shouting at referees for holding calls fifty yards away from the action (high school football fans have eyes like hawks apparently).  Plenty of "let's go boys!" abounded throughout the comfortable mid-40's evening.  There was a man behind me shouting "He was inbounds!" about a play some 60 or 70 yards away on the opposite site of the field where the play actually finished.  Once again – fans with eyes like hawks.  "I'm Journey's grandma!" was randomly shouted by the proud grandma of Junior CB/WR Journey Shells to no one in particular and to everyone within earshot as she sauntered by me towards the end of the first quarter.
Saw him the other night at this roadside bar

I was walking in, he was walking out.
Approximately half the team is made up of seniors (including Jackson).  These young men will forever be bound together by a magical run that has them further in the playoffs and given them more wins than any Gore football team in history.  Will it end in a state championship?  It is certainly a possibility (25% if my math is correct), and that is ultimately the goal.  But in 10, 20, 30 years it won't really matter as much.  These eyes of a 50 year old certainly see it differently than those of the 17 and 18 year olds running on green and white testosterone right now.  This moment in time though, these moments in time, are really all about the journey.  The destination is the state championship in two weeks on the campus of UCO in Edmond, but the journey is really the special part.  It's what these young men will recollect to their kids and grandkids and to each other one day.  They'll laugh and talk about touchdowns and interceptions and tackles and celebrations with their teammates and friends all under bright floodlights on patches of grass in Gore and in other small communities like Pocola and Colcord and Mounds.  They'll recall their parents and siblings and relatives and friends ringing cowbells and roaring in unison after every score and every defensive stop.  They'll talk about "Mama Duke" and their grandparents and uncles and aunts, and how an entire community of 1,000 strong was enamored with and cheered them on week after week.  It's ultimately about the brotherhood and the friendships that develop and are fortified with every snap, with every play, with every game that create lifetime memories, and will bond these young men and coaches together forever regardless of the wins and losses.
Last night Jackson Duke was responsible for two interceptions (one of which was a "pick-six" – an interception returned for a touchdown), a half-back pass for a touchdown, a couple of nice kickoff returns, and numerous tackles.  He flexed after big hits on defense.  He cooly and casually accepted congratulations for the touchdowns he was part of, and he helped to lead the Gore Pirates to a 69-13 win over Crescent (Gore scored the final 49 points to finish the game after leading just 20-13 early in the 2nd quarter).
The Pirates will face another 13-0 team next Friday in the state semi-finals – the Hominy Bucks, and if they can take down Hominy they'll face another undefeated team in the finals (the other semi-final matchup features two more undefeated teams in Colcord and Fairview).
Three teams will be disappointed over the next two weeks leaving a sole undefeated champion.  But until the season comes to an end for the Gore Pirates (hopefully in two weeks in Edmond), I hope the fans and the coaches and particularly the players enjoy what's left of this magical journey.  I want them to enjoy the limelight, to enjoy the signs displayed by the local businesses, to enjoy the pats on the back, the recognition from their peers and from the town, to continue being good role models for future Gore Pirates, and I want them to be present in the moment.  Yes, focus on the task at hand (beating Hominy), but also realize that this Gore Pirates football team of 2022 is in "the good ole days" right now.  I certainly do.
Yeah, just sitting back trying to recapture

A little of the glory of, well time slips away And leaves you with nothing mister but Boring stories of
The lyrics to the first verse of The Boss' #5 hit from the summer of 1985, "Glory Days" are actually autobiographical.  It's a recount of a chance encounter Springsteen had with former Little League baseball teammate Joe DePugh in the summer of 1973.
This song has always been one of my top three favorite Springsteen songs.  I think it's just because of the nostalgic feeling that the song creates within me the older I get, but I even recall it resonating with me as a 14 year old when it was released in 1985.  I've tried to feature it in different posts for years, but I could never get the post or a topic for it out of the "drafts" phase.  Finally, I did.  It made it into a published post.  All it took was inspiration from a bunch of 17 and 18 year olds and the community that has rallied behind them.  Thank you Jackson and thank you Gore Pirates.    
And as always, thanks for reading.
sincerely,
the80's
Go Pirates!